SIXTH FORM VISIT TO BODYWORLDS
Year 12 students on the Aspiring Medics Programme teamed upwith PE Diploma and PE A level students to visit the BodyWorlds Exhibition in London recently.
After a very early start we arrived at Piccadily Circus via Richmond and spent the morning in the exhibition. The exhibition in centred around the body exhibits but the experience is much more about the organ systems of the human body and how they function to effect the lifestyle and health that we enjoy as human beings.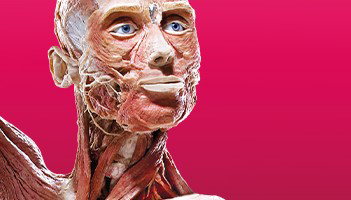 The first part of the exhibition focusssed on the brain and nervous systems; this was perhaps the most intriguing section. Time was spent thinking about how neurological processes effect and control our moods, behaviours and personality. We then went on to look at the other major organ systems with particular focus in the respiratory and cardio vascularsystems as well as the digestive system and and kidneys and liver.
Whilst the exhibition raised both ethical and moral questions, the depth and breadth of information in each area was quite amazing and perfect for our group of students attending. The PE A level and Diploma students gained a real insight in to how the human body functions from anatomical and physiological perspectives. The Aspiring Medics, Dentists and Vets were able to think about these perspectives in the context of the dissection work that they will undertake on their proposed University courses. We then had time to relax and enjoy the London lifestyle with lunch and shopping before returning to Highcliffe.
"The exhibition was so unique. I learnt a lot." - Lexi (Cam Tech Sport)
"It was weird, but fascinating." - Ria Hill (A levels and Aspiring Medics Programme)
If you have got what it takes to study Biology or PE at A level or the PE Diploma level 3 then please see Mrs Webber, Mr O'Connor or your subject teacher for further information. You too could be on one of our future BODYWORLDS Sixth Form trips!
---

Owned by: NOR | Last Published: 13/06/2019 15:03:44 | Next Update: N/A