Music Performance (A - Level)
Subject Mission Statement
Our aim is to provide a Music education where students experience music-making through collaboration with others and which gives students of all abilities the opportunity to succeed and take pride in a quality musical outcome. The Music curriculum is designed to support students to foster resilience, to become creative problem-solvers, to develop social skills and acquire musical literacy. Furthermore we aspire to engender a life-long appreciation of Music that resonates in many different areas of school life, contributes to the health and well-being of students and the school community as a whole, through the vehicle of a comprehensive extra-curricular and enrichment programme balanced within the context of an academic focussed curriculum.
Overview
This course provides an opportunity to study the disciplines of music in an integrated way as well as cultivating the highly desirable skills needed for Higher Education and future employment including self-management, creativity, data analysis, performance, teamwork, problem-solving and communication. Students will have a choice of specialising in either performance or composition whilst reinforcing their knowledge and understanding of music through three areas of study: The Western Classical Tradition; Twentieth Century Music; and one from either Rock and Pop, Musical Theatre, or Jazz.
To support their personal instrumental studies students will be given a rich variety of public performance opportunities: Christmas Concerts; Summer Concerts; School Production; Lunchtime Concerts; Evening Recitals; the Primary Schools' Music Tour – leading to showcase events such as Regent Centre Community Project and other local music events in the community. A-level students will also benefit from regular tutorials and additional Music Theory classes delivered through the Music Enrichment programme.
KS5 Intent Statement
the music
profession functions, and how music makes a difference in the wider world; and
through organising, leading, and participating in their own concerts at school.
Students
will continue to develop their skills of musical literacy, building on
knowledge of Music in KS3/4– including the critical importance of understanding
context (musical, artistic, historical, human); the appreciation of musical
grammar and syntax; and the appreciation of historical development.
A Level
Music continues to build and refine the skill of Listening and Analysing: the
ability to articulate how music functions in conceptual form, such that the
student can elevate their own understanding of music, and communicate this to
others in such a way that the joy of music is shared and deepened. Students
will continue to deepen their understanding of great musical output of human
civilisation in appraising a range of musical traditions and influences from a
growing number of geographic and cultural traditions.
Students
continue the discipline of Composition which allows students to take the study
of appraising and analysis to a higher level of confidence and ownership, and
also gives the opportunity to present creative work and to develop IT literacy
skills in the detailed and creative use of music software. This also offers an
alternate pathway for learning – specialised Composition rather than
Performance.








The development of Music at a high level makes
an enormous difference to the social well-being of the school and the larger
community and offers students opportunities to be at the core of making a
difference to others.

Qualification Details
Exam Board: EDUQAS
Qualification Title: Music Performance
Qualification Specification Code: A660QS
Qualification Webpage: Click here to visit the EDUQAS webpage for the specification.
Entry Requirements
By audition and standard Sixth Form entry requirements
What will I study in this qualification?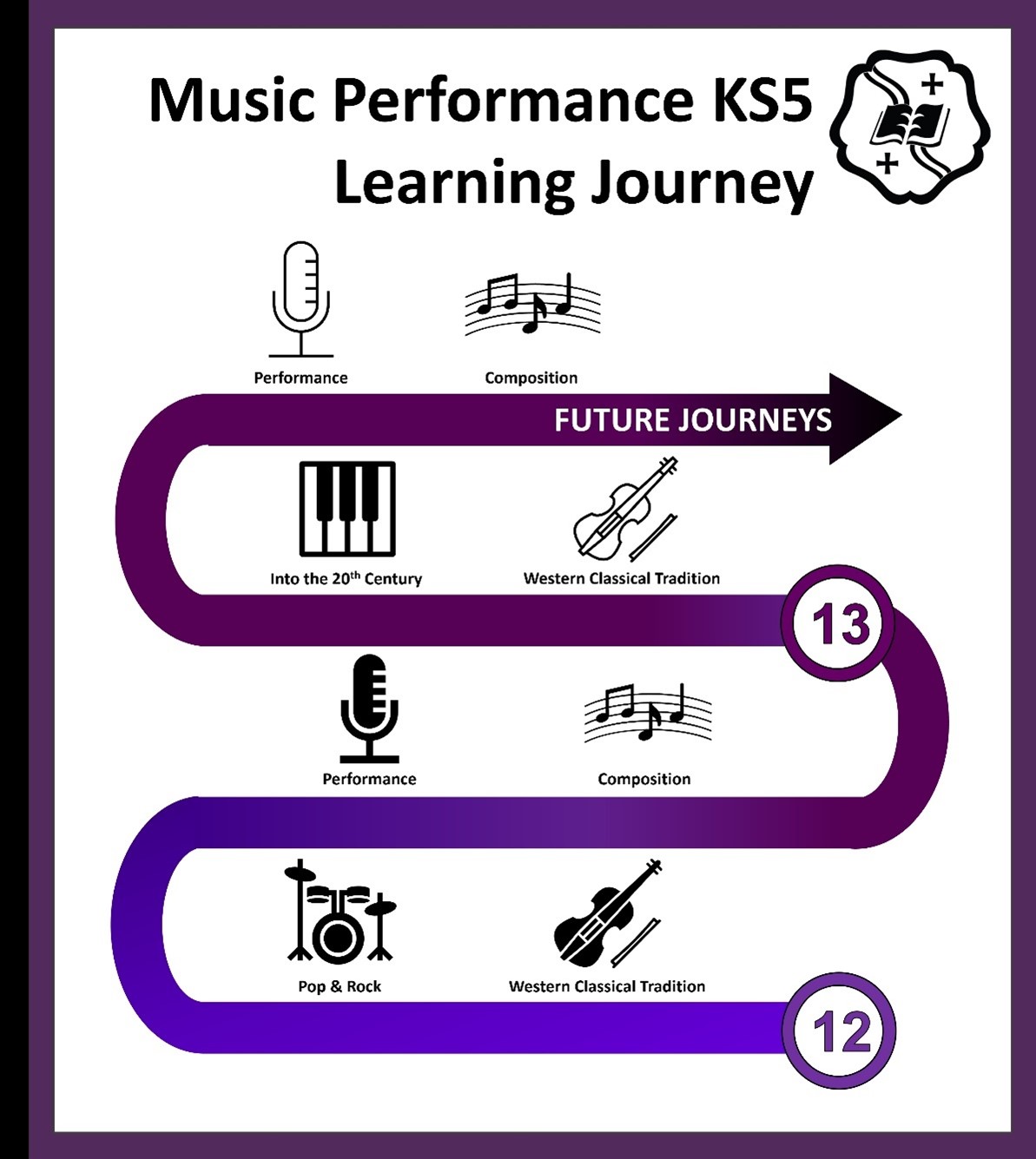 Possible Career Paths
The qualification prepares students who wish to undertake further study in performance at university or conservatoires throughout the UK and abroad. The study of music opens doors to a wide range of careers, both within and outside the arts as the commitment and discipline required supports students heading for destinations as diverse as Broadcasting, Publishing, Law, Politics and the Civil Service.
Who should I speak to if I need further information?
Mr R. Bannister