English Language and Literature
Subject Mission Statement
English holds a central place in the curriculum as language is power: it underpins all learning. We aim for our students to develop critical awareness, the ability to craft their writing, an appreciation of literature, and the confidence to articulate their ideas. We use language and literature to explore and nurture life skills such as resilience, self-expression and creativity. Students will become more empathetic and tolerant through encountering a range of texts that allow students to think beyond their own time and place. Through the subjects offered by the English department, our students will be empowered to explore, understand and question the world, people, and themselves.
Overview
Think about all the times you tell someone about something. In effect, you are telling a story. Why do you tell the story in the way you do? What do you keep in and why? What do you leave out and why? This applies not just to the way we tell stories, but how we present our ideas and attitudes. Many factors affect how people tell stories or present their ideas. Building on the knowledge and skills developed in your GCSEs in English Language and English Literature, we will analyse in depth and detail how and why people tell stories – in the broadest sense – by looking at a variety of fictional and non-fictional texts including Shakespeare. You will be expected to engage in a considerable amount of independent reading and be willing to take the initiative when exploring how writers use language to present their ideas and attitudes.
KS5 Intent Statement
Provide students with the opportunity to
explore an academic range of texts and skills that will help with careers and
higher study in English/Film/ Media and the wider curriculum. Educate students
to be able to engage critically with texts on an exploratory and analytical
level. Support students in being able to manage time and organisational
elements with research, essay writing and extended projects (in particular the
NEA). Inspire students to become adults who are curious about the world and
willing to challenge ideas. Promote independent learning in the subject area
and beyond. Enable students to become sophisticated and effective
communicators. Using the curricula, introduce new concepts; build on prior
learning to revisit and improve skills; promote the development of all three
literacy strands; explicitly promote stretch and challenge through the years.
All this is underpinned with personalised assessment and targeted feedback,
aligned with key learning objectives. Inspire and enhance student understanding
further by offering extra-curricular opportunities, with a focus on extending
knowledge and experience, and encouraging personal investigation. Provide personalised
advice and guidance to support students' wider learning and aspirations beyond
KS5.
Qualification Details
Exam Board: Edexcel
Qualification Title: English Language and Literature
Qualification Specification Code: 9EL0
Qualification Webpage: Click here to visit the Edexcel webpage for the specification.
Entry Requirements
Standard Sixth Form entry requirements plus a strong enjoyment of independent reading and writing.
What will I study in this qualification?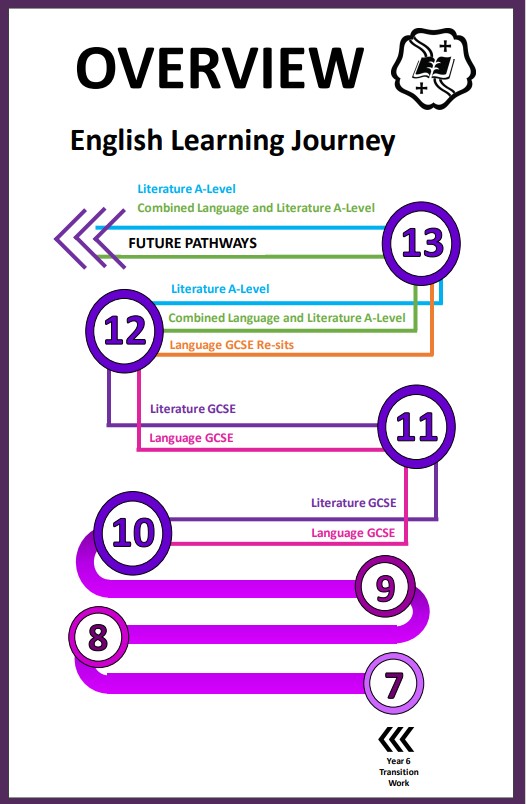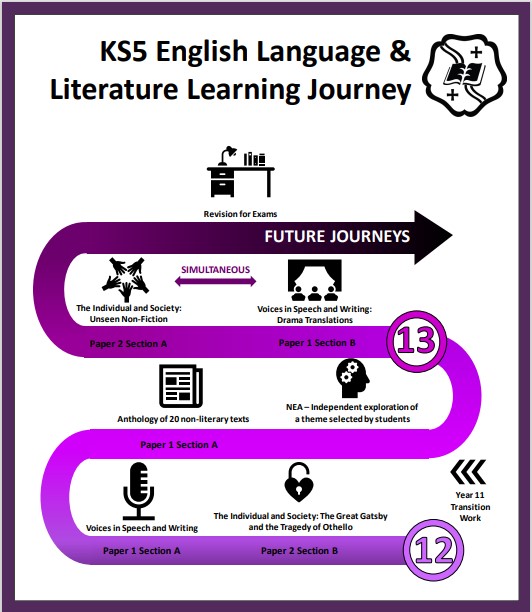 Possible Career Paths
Apart from degrees in English Literature, and Linguistics, this course will also support your understanding and appreciation of whatever subject you choose to study. Most obviously, the course will suit students interested in pursuing the following careers: the Creative Industries, Advertising, Marketing, Public Relations, and Journalism. However, the course will develop your ability to write and think with greater understanding – a skill that underpins everything you will do in whatever course or career you choose.
Who should I speak to if I need further information?
Mr Bryden and Mr McLeish