Information Technology (BTEC)
Subject Mission Statement
To equip our students with the necessary skills and knowledge to develop their social, economic and technological awareness and to enrich their employability skills to help inform their choices of future pathways. We want to build awareness of cyber security to give mechanisms to help student's combat current challenges around online behaviour.
Overview
Information Technology (IT) involves the use of computers widely in industry and commerce. The UK is one of the leading digital nations, and its economy has the highest percentage of GDP involved in the digital economy in Europe. The National Institute for Economic and Social Research (NIESR) shows that the digital economy includes almost 270,000 UK digital companies, and 11% of all jobs. BTECs embody a fundamentally learner-centred approach to the curriculum, with a flexible, unit-based structure and knowledge applied in project-based assignments. Students perform independent research alongside the case studies provided, focusing on the holistic development of the practical, interpersonal and thinking skills required for success in employment and Higher Education. This course uses a combination of assessment styles to give students the confidence to apply their knowledge, succeed in the workplace, and have the study skills for lifelong learning. The range of vocational assessments, both practical and written, means students can showcase their learning and achievements when they take their next step, whether that's supporting applications to Higher Education courses or potential employers.
KS5 Intent Statement
To provide a successful curriculum suited to
our student intake profile, balancing core learning with guided, differentiated
pathways for sub-groups or individuals which inspire and engage students whilst
successfully preparing them for progression at age 18 and future life as
learners, employers and citizens.
To give the students a real world
understanding of the use of technology in the wider world and to provide a
theoretical level of knowledge in the history and inner workings of key aspects
of the computer. To cultivate creative and dynamic problem solvers, both when
using technology and in general, by developing the key skills of computational
thinking.
To give students a deep understanding and
engage learners to enhance their awareness of current affairs and key Economic
and Business topics to enrich and develop their cultural capital and prepare
them for a rapidly changing external environment. To equip students with the
analytical and evaluative skills required to form judgments and opinions about
why key decisions are taken by the government and the impact on the world around
us. We want learners to demonstrate that they can identify and use effectively,
in an integrated way, an appropriate selection of skills, techniques, concepts,
theories and knowledge to help them prepare for progression to employment,
apprentices and further education.
Qualification Details
Exam Board: Edexcel Pearson National Extended Certificate
Qualification Title: IT - BTEC Level 3 National Extended Certificate
Qualification Specification Code: 601/7574/6
Qualification Webpage: Click here to visit the Edexcel Pearson National Extended Certificate webpage for the specification.
Entry Requirements
Standard Sixth Form entry requirements
What will I study in this qualification?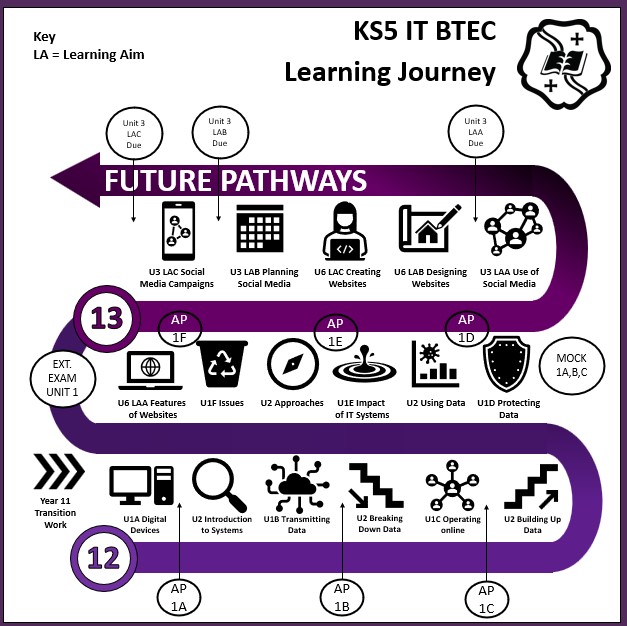 Possible Career Paths
The BTEC qualification, when studied alongside other Level 3 qualifications, is aimed at progression to Higher Education. However, it also enables students to develop the knowledge and skills needed for entry level roles related to IT, including vocational apprenticeship roles and trainee/entry level roles, such as a Social Media Specialist, Content Developer, Web Developer or Business Analyst. For students wanting to study for an IT-related degree, opportunities would include Undergraduate courses in Computer Arts, Software Development for Animation, Website Development, Games Design and Development and more.
Who should I speak to if I need further information?
Mr K. Tyler