Physics
Subject Mission Statement
To educate, inspire and promote the understanding of the role Sciences play in human endeavour. Students will be able to make rational life choices, develop skills relevant to future careers and contribute meaningfully to a modern society.
Overview
The specification is divided into topics each covering different key concepts. As learners progress through the course they will build on their knowledge of the laws of Physics, applying their understanding to solve problems on topics ranging from Sub-Atomic Particles to the Entire Universe. The specification aims to encourage learners to develop essential knowledge and understanding of different areas of the subject, and how they relate to each other, as well as a deep appreciation of the skills, knowledge and understanding of scientific methods. Learners will also develop competence and confidence in a variety of practical, mathematical and problem solving skills. There are opportunities throughout the course for learners to hone their interest in and enthusiasm for the subject, to understand how society makes decisions related to scientific issues, and also how the sciences contribute to the success of the economy and society as a whole.
KS5 Intent Statement
Educate students to acquire a firm
understanding of key scientific principles and detailed technical knowledge,
opening pathways to Science and technology vocations.
Students will be able to relate technical
knowledge to developments in society (eg climate change/sustainable
development) Further develop logical thinking and problem-solving skills and
scientific literacy. Facilitate extend practical and organisational skills.
Topic areas taught at KS4 will be revisited in
each subject's A Level course in more breadth and depth. As Science is a spiral
curriculum this will building upon previous knowledge, content and skills to
enhance a greater comprehension and appreciation of Science.
STEM activities at KS5 include; trips to
Higher Education providers (eg biomedical imaging, high voltage lab);
opportunities to study subjects in 'the field' (eg Biology Field Trips,
Chemistry work in Southampton University laboratories); Talks by visitors (eg
genetic engineering as part of Science week); aspiring medics and vets programme.
Qualification Details
Exam Board: OCR
Qualification Title: Physics
Qualification Specification Code: H556
Qualification Webpage: Click here to visit the OCR webpage for the specification.
Entry Requirements
Standard Sixth Form entry requirements, plus a grade 6 in GCSE Science
What will I study in this qualification?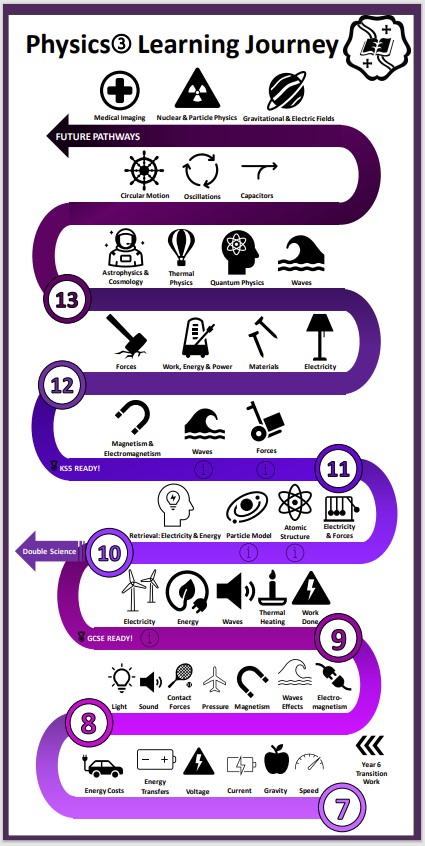 Possible Career Paths
Physics Research and Development, Engineering of many disciplines from Communications, Chemical, Electrical, Automotive and Marine, to name but a few. The following fields allow Physicists to use their mathematical and analytical skills: Business, HR, Finance, IT, Consultancy, Banking and Accountancy. The analytical skills and logical approach developed in the study of Physics is well regarded in many fields. Learners will also develop the transferable skills that are in demand by Further Education, Higher Education and employers in all sectors of industry. This course will allow them to develop as a confident, independent thinker and, also as someone who can operate effectively as an individual or part of a team – all skills that will enable them to stand out and promote themselves as they progress through life.
Who should I speak to if I need further information?
Mrs L. Green